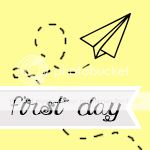 That's right! It's first day!
This is what our day looked like today.
Pop on over and visit Nicole to see some other First Days.
Or if you're new around this here blog space, you can click here, here, and here to see of a few of our other first day posts.
Hope your first day of the new year was a good one!