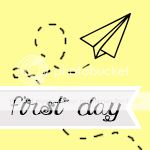 My handy husband made a place for me to hang my necklaces.
Trying to venture out in my scarf-tying. :)
It was a great first day! We had a relaxing morning at home followed by a gingerbread house party for us girls and then an impromptu family outing to the McDonough parade. To see some other fun first day posts, visit
Nicole's blog!